Farnham's first walking festival has been launched and includes a number of accessible walks that will enable wheelchair users and walkers of all abilities and ages to discover historic Farnham and the surrounding area.
The Walking Festival will be held from Sunday 21 to Sunday 28 May and consists of over 30 walks which vary in length from 1.5 to 7.5 miles. All walks will be led by experts and enthusiasts and are free of charge.
The announcement of the programme for the Festival coincided with the launch of a self-guided industrial heritage trail of Farnham. Devised by Chris Shepheard, the route takes walkers around central Farnham and identifies the town's industrial roots.
Councillor Jill Hargreaves, Lead Member for Tourism and Events says: "I am delighted that we are hosting Farnham's first Walking Festival. You can see and notice so much more when you are on foot as opposed to in the car. The knowledgeable walk leaders will reveal points of interest and facts that will leave walkers better informed about this beautiful and historic town."
Each walk has a different theme and location. Walks include Life in Farnham Castle, the industrial heritage of the town, public art, and the natural landscape surrounding the town. There will be walks in Rowledge, the Bourne, Hale and Upper Hale.
Numbers are limited so booking is essential. Places will be allocated on a first come first served basis. To book or for more information about the walks see our Walking Festival page or visit Breaking Free, an independently owned outdoor clothing and travel equipment shop based in The Borough.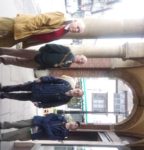 For more information on the walks and to book see our Walking Festival page.