The shortlist for the National Association of Local Councils' (NALC) 'Star Councils' awards has been announced and Farnham Town Council is delighted to be one of just three finalists in the digital communications of the year category.
The national awards are described as an opportunity to recognise and celebrate the achievements of member councils. There are nine categories, which aim to showcase some of the best work that is happening nationally amongst the 10,000 town and parish councils. Farnham Town Council is the only Surrey council in line for an award.
The Digital Communications Award will commend the council with the most impressive use of technology and cutting-edge communications across a number of platforms, including their website, e-newsletters and publications and social media. The Award seeks to appreciate councils that have embraced new technologies and used them positively to interact with their communities.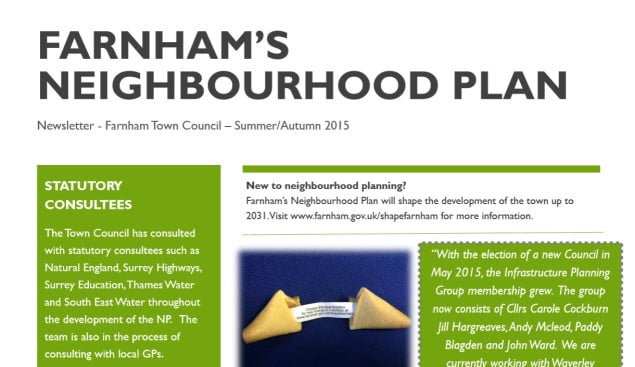 Councillor John Ward, Leader of the Council says: "I am proud that we have been selected as a finalist for this award. Farnham Town Council was an early adopter of digital communications and has evolved it as a tool for engaging with people about our every day business.
"Before tendering the brief for our new website we carried out research with users to find out what they would like from the site. They told us they wanted information about things to do, events and shopping. These findings influenced the new website and have resulted in it being a source of information about Farnham as well as the Town Council. We also use a range of other communications methods from surveys to our annual residents' guide and Mayor's coffee mornings so we can inform and work with residents to make Farnham a better place."
Farnham Town Council is a proactive user of Facebook and Twitter and has recently introduced an enewsletter, which people can subscribe to receive.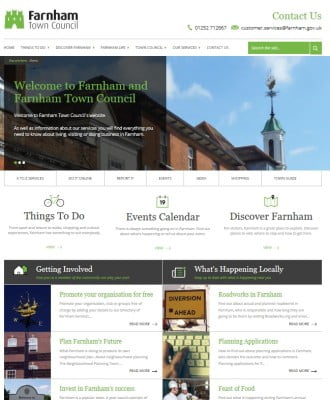 The Star Councils entries were judged by a panel that included representatives from the Department of Communities and Local Government, Action with Rural Communities England, Society of Local Council Clerks, NALC, organisations in the Localism Alliance and the award sponsors.
The winners of each category will be announced at an awards ceremony in Birmingham on 27 October.
For information about Farnham and the Town Council or to subscribe to the enewsletter see our website, follow @FarnhamOfficial on Twitter or visit the Farnham Town Council page on Facebook.