Bishop's Meadow Trust has received a cheque from Farnham Town Council for £1,000.
The Mayor of Farnham, Cllr Jeremy Ricketts presented the cheque to members of the Trust. The Bishop's Meadow has recently conducted a small mammal survey with support from the Surrey Wildlife Trust and plans to use the money to create protected areas for wildlife around the edges of the meadow.
Town Clerk, Iain Lynch says: "The Bishop's Meadow Trust and volunteers are doing a wonderful job of creating a wildlife haven close to the centre of Farnham. Nurturing these green lungs is so important and complements what the whole community aims to achieve with Farnham in Bloom. I would urge anybody who has not yet visited the Meadow to wander along and enjoy the peace and tranquility."
Pippa Hoyland who is a Board Member of the Bishop's Meadow Trust says: "We are extremely grateful to receive this grant from Farnham Town Council. The edges of traditional meadows are rich with wildlife and without the grant we would not be able to carry out the project that will provide safe havens to so many species of flora and fauna."
For 2015/16 Farnham Town Council has awarded £54,000 in community grants. The projects that have been supported will promote the environment and/or community life for residents who live in Farnham and the town's villages.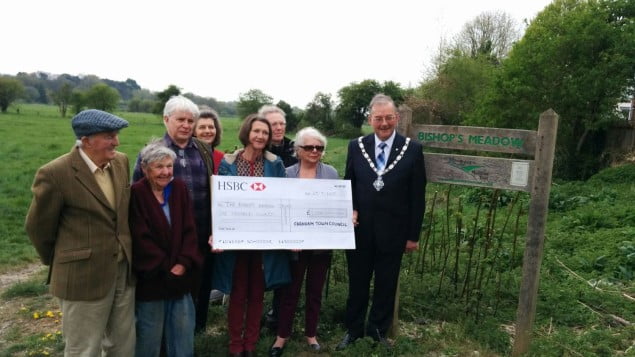 Pictured: The Mayor of Farnham presents a cheque to the Bishop's Meadow Trust.